SpeechLive Pro Cloud Dictation Solution - 12 Month Subscripiton
Windows & Mac Compatible. Incl UNLIMITED tech support!
Everything you need to dictate
No software to install. No network is required. Includes unlimited technical support, user training & implementation.
Everything you need for professional dictation. Access from any computer.  SpeechLive is securely hosted in Australia.
SpeechLive Dictation includes;
SpeechLive Author Account 

SpeechLive Admin Account

SpeechLive Professional Dictation Recorder App

Set-Up & Implementation

Unlimited

 Technical Support (direct from VoiceX)
SpeechLive is compatible with Philips and Olympus portable dictation recorders as well as a large range of dictation microphones & headsets.  Dictation hardware is optional.  The included SpeechLive Dictation App allows you to dictate and send straight from your phone.
SpeechLive is a 12-month subscription & includes all system updates, upgrades, feature enhancements, and technical support. Pricing is per user.  Please allow up to 24 business hours for your SpeechLive account to be activated.
Also available;
SpeechLive - the most efficient and easy to use dictation and transcription solution
SpeechLive is the first truly professional, end-to-end cloud-hosted dictation & transcription management solution
SpeechLive - the perfect "dictate anywhere" / "transcribe anywhere" solution
Authors and typists simply access their SpeechLive dictation or transcription workflow on any computer, via secure log-in on a web browser (such as Google Chrome, Edge, or Safari) no matter whether they are working from the office or home.
Authors also can also dictate and access their dictation queue via their SpeechLive App.
Work from any computer
No software to install
Windows and Mac compatible
No complex setup or configuration

For the author....
SpeechLive Dictation Recording
SpeechLive gives the author the choice on how and where they dictate.
An author can use the included SpeechLive Dictation App on their phone to simply record and send. However, if they are recording longer documents they may wish to use a more traditional, portable dictation recorder.  SpeechLive is compatible with most professional voice recorders, including Philips and Olympus.  In most cases, authors may already have a digital dictaphone recorder that can be used.
Another alternative is to record directly into SpeechLive via the SpeechLive On-line Recorder - easily accessible from the web browser.  This provides full dictation recording and editing capabilities and works perfectly with professional dictation microphones such as the Philips SpeechMike range or a professional headset such as the Philips SpeechOne Headset or even one of the Jabra headset ranges.  
No matter how you record, dictation audio is quickly routed to the author's secure workflow in SpeechLive - ready for transcription All options are included. 
Included for each author is the 

SpeechLive Dictation App

.  Simply record your dictation - with all of the same functionality as a traditional dictaphone voice recorder, add notes & instructions, set a priority, attach an accompanying image or document and click send. 

Or

...
Dictate directly into the 

SpeechLive On-line Recorder

 with a SpeechMike or headset microphone. 

Or

...
Dictate using a 

Philips or Olympus portable dictation recorder

. You can even set SpeechLive to 

automatically

 upload directly into your SpeechLive workflow when you connect your recorder.
Dictations are 

automatically sent to the allocated typist/s in

 your organization securely via the SpeechLive service. No emailing required.
Clearly see - on your phone or your computer - the live 

transcription status

 of your dictation so you know once it has been completed.

SpeechLive Speech Recognition
Assisting authors to turn around documentation even more efficiently is the in-built SpeechLive Speech Recognition.  This powerful set of tools provides up to 95% accuracy and gives authors the opportunity to convert their speech to text in real-time - or from a pre-recorded dictation.
SpeechLIve Speech Recognition is one of the only professional voice recognition solutions with multilingual capabilities.  Transcribe text in up to 17 languages and variants.
On-screen speech to text

 allows you to have your dictation automatically transcribed - in real-time - using the SpeechLive Web Recorder in your browser

Voice commands

 allow you to insert paragraphs, punctuation, special characters etc

Custom Vocabulary

 allows you to add up to 4,500 words or phrases

Automatic Speech Recognition

 of a pre-recorded dictation audio file - ready for the typist to proofread and format.  Both the text and audio is provided for accurate editing

10 minutes free

 (per author, per month) of pre-recorded dictation converted into text. Additional minutes can be purchased for .09c a minute.

Free real-time voice recognition

 during the beta phase.  Final production due 2nd half 2021.
Coming soon.... SpeechLive Dictate @ Cursor - simply log on to SpeechLive and turn on the Speech Recognition and dictate directly into any program you have open - forms, templates, practice management software, CRM etc. Please note that initially, this will be compatible with Microsoft OS only.
NB: Additional charges may apply for optional speech recognition functionality.

For the typist...
SpeechLive In-House Transcription
SpeechLive allows your typists to securely log on to their transcription workflow from any computer and transcribe the audio direct from the browser. No software installation required!! Typists can be set to see all authors or just the nominated author/s they require.
Foot Control compatible

 - Simply connect a Philips ACC-2330 or ACC-2310 USB foot pedal and control the audio efficiently

Real-time job status

 allows each team member to see the current status of each dictation (ie: Pending, Suspended, In Progress, Completed)

Filter and Sort the worklis

t to find dictations quicker and stay organized

Priority Dictations

 stand out clearly in the worklist 

Optional email notification

 of new dictations when added to the typist's workflow

Variable Speed Control

 allows the typist to adjust both the playback and the winding speed

Auto-backspace

 allows the typist to adjust the player to slightly rewind after each stop to ensure not a single word is missed

Automatic archiving

 allows typists to keep the worklist clear whilst being able to navigate back to completed dictations if required

Dictation Archive Purge

 can be set at a time that suits your firm 

Optional SpeechLive Transcription Service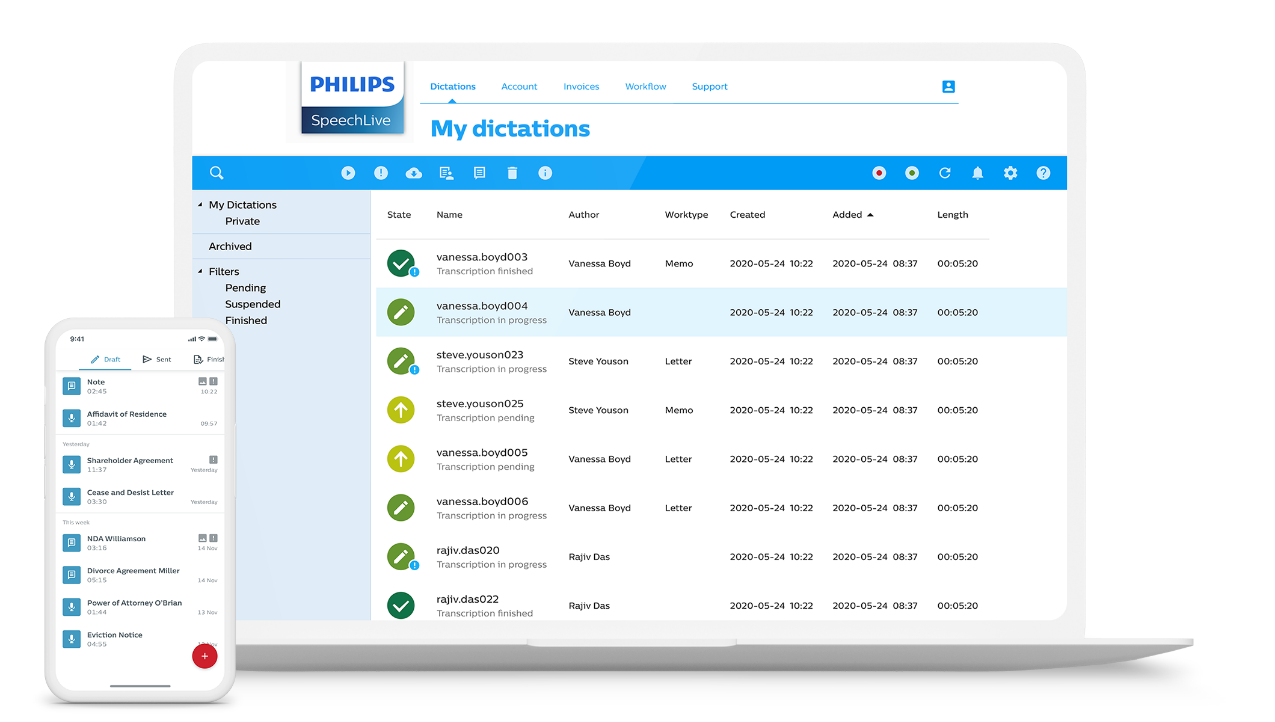 For the times when you need a little extra help the SpeechLive transcription service allows you to focus on more important tasks than typing.  It is like having your own "on-demand personal assistant".
99% accuracy and 100% transcribed by humans!
Fast turnaround times allow you to meet tight deadlines.  Urgent dictations can be delivered within 5 office hours
Multiple speakers - SpeechLive transcriptionists can easily transcribe multiple speaker recordings with time stamps and speaker tracking
Guaranteed security - keep your confidential data safe with the knowledge that all SpeechLive typists work in professional office spaces with secure technology.
Free trial - try the SpeechLive Transcription service and get the first 10 minutes free
Purchase SpeechLive Transcription Service in blocks (minimum of 20 mins) - with optional auto-top up.
SpeechLive Transcription Service Pricing
Non-urgent Transcription :

 $2.19 per min (inc GST) - 24 hour turn around for up-to 120min audio

Urgent Transcription :

 $2.74 per min (inc GST) 5-hour turn around for up to 25 min audio

Multi Speaker Transcription :

 From $3.85 per min
For the administrator...
Each SpeechLive account is provided with a free admin log-in.   An administrator can apply system-wide settings, add and remove user access, change users and perform password resets for each user. 
The cloud dictation and transcription solution that continues to evolve
SpeechLive includes continuous improvements and new features.  The entire solution for dictation and transcription is continuously evolving.
SpeechLive Features for the Author include;
Dictate and send from the included SpeechLive Dictation App.  iOS & Android compatible
View the "live" status of your dictation direct from your SpeechLive App and your browser
Dictate using a Philips or Olympus portable dictation recorder with simple and automatic* upload into your SpeechLive workflow
Select your preferred typist or transcription team for each dictation
Dictate and directly into SpeechLIve via the SpeechLive On-line Recorder using a dictation headset or SpeechMike on any PC or Mac Computer
Send dictations to the SpeechLive Transcription Service** when your typist is not available
10minutes of Speech Recognition Free every month.  Dictate submit audio for automatic transcription - or dictate "at cursor" directly into any application with the new SpeechLive Speech-to-Text*** speech recognition service.
SpeechLive Features for the Typist include;
Professional transcription functionality from your web browser on any Windows or Mac computer
Use a Philips USB Foot Control to control the dictation audio
Set volume, speed and auto backspace for each transcription job
Manage and sort dictation including the ability to Suspend and Archive
See work from all of the authors allocated to your transcription workflow
Easily identify priority dictations
Choose to receive email notifications of new dictations
Send dictation audio files to the SpeechLive Speech-to-Text Speech Recognition***
Send dictation audio files to the SpeechLive Transcription Service**
SpeechLive Features for the Administrator include;
Administrators can add and remove users
Transfer users remaining work
Reset passwords
Run Activity Reports
Adjust system-wide settings such as 2-factor authentication, archive settings etc
Manage workflow relationships between authors, typists and teams
*Automatic upload is only available in Windows environments. Mac users will simply need to click the UPLOAD icon and select the dictation files.
**SpeechLive Transcription Service is a pre-paid/PAYG service.
***Ongoing SpeechLive Speech-to-Text Speech Recognition is an optional component available at an additional charge per user, per annum