Dragon Professional Anywhere : Cloud-based Speech Recognition
Includes Dragon Anywhere Mobile App Free
Dragon Pro Anywhere On Sale Now - Limited Time Only
Being a hosted-cloud service, Dragon Professional Anywhere allows authors to work from any location - especially beneficial for remote workers.  Dictation enables authors to create more detailed and accurate documentation 3x faster than typing - now with 99% accuracy with no voice profile training. Accents are no longer a concern with automatic accent adjustment.
Dragon Professional Anywhere is available to trial for free in Australia from VoiceX.  Simply register to trial Dragon Pro Anywhere via the link below and your unique trial profile and login will be created for you to use on both your computer and mobile device.  In addition, the VoiceX Support Team will be able to provide you with support during your trial.  Please allow approx 24-48hrs for your Dragon profile and login to be created.
Your Dragon Professional Anywhere subscription includes;
Access on any Windows-based computer
Free Dragon Anywhere Mobile App for iOS and Android devices
Unlimited Technical Support via VoiceX - Australia's leading speech recognition & dictation specialist
End-User Training - 1-hour, one-on-one, remotely*
Software Updates, Upgrades & Feature enhancements Included and delivered automatically
See the new Dragon Professional Anywhere cloud-based speech recognition in action
Watch our brief demonstration video of both Dragon Professional Anywhere - speech-to-text dictation on your computer, and Dragon Anywhere - speech-to-text dictation on your phone!
*Remote support and training is performed via TeamViewer or your preferred program.  1-hour training is included with all non-upgrade subscriptions.
Try Dragon Professional Anywhere - FREE

Looking at how you can work smarter - not harder - in 2022?  We challenge you to give speech recognition a go.

Register now with VoiceX for an obligation free trial to the new Dragon Professional Anywhere - including Dragon Anywhere Mobile App.  VoiceX offers free introductory training and support during your trial.
Buy Dragon Professional Anywhere with confidence
Hosted in Australia with Australian based technical support & user training
VoiceX is one of Australia's largest dictation & voice recognition specialists.  We are proud to be a fully authorised Nuance Reseller, Technical Support and Training Partner our in-house  - Australian based - technical support team services clients across all states of Australia and New Zealand.
Dragon Professional Anywhere - Australian Based Technical Support
VoiceX is a proud - and fully authorised - Nuance Support Partner for the entire range of Dragon speech recognition products. Through our dedicated, in-house Technical Support Team, we offer a range of initial and ongoing technical support options. Find out more at www.voicex.com.au/dragon-support
As using speech recognition software is a new way of working for many, making sure you understand the do's - and more importantly the don'ts - of speech recognition from the beginning can make all the difference to your success. Call us today to talk about our Dragon software Australia & New Zealand editions or to find a training option that will best suit you.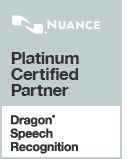 ---
Speech Recognition Microphones
Great speech recognition requires the best in audio clarity. VoiceX has a wide range of dictation microphones and headsets that have been tested and are recommended for Dragon Professional Anywhere speech recognition.
See a wide range of headsets and microphones recommended for speech recognition...